Energia aminoacidi essenziali (mix frutta), 1.29 lbs (585 g) Bottiglia
41365
This is a carousel with one large image and a track of thumbnails below. Select any of the image buttons to change the main image above.
Energia aminoacidi essenziali (mix frutta), 1.29 lbs (585 g) Bottiglia
41365
Formato:
1 | 1.29 lbs (585 g) Bottiglia
- Disponibile
Maggiori informazioni
Informazioni sugli integratori
Dimensioni porzione:

2 Scoops (9 g)

Porzioni per contenitore:

65
product

Quantità
Per porzione
% dose
giornaliera
(DV)
Calories
10 Quantità
Per porzione
Total Carbohydrate
2 gQuantità
Per porzione
1

%*

Amino Blend

Micronized Taurine, Micronized L-Glutamine, Micronized L-Arginine, Micronized L-Leucine, Beta-Alanine (as CarnoSyn), Micronized Citrulline, Micronized L-Isoleucine, Micronized L-Valine, Micronized L-Tyrosine, Micronized L-Histidine, Micronized L-Lysine HCl, Micronized L-Phenylalanine, Micronized L-Threonine, Micronized L-Methionine,

5 gQuantità
Per porzione

†

Energy Blend**

Caffeine (from Green Tea)**, Green Tea Extract (Camellia Sinensis)(leaf)(standardized for EGCG), Green Coffee Extract (bean)

160 mgQuantità
Per porzione

†
Altri ingredienti:
Citric Acid, Malic Acid, Natural & Artificial Flavors, Inulin, Beet Color, Tartaric Acid, Silicon Dioxide, Calcium Silicate, Gum Blend (Cellulose Gum, Xanthan Gum, Carrageenan), Sucralose, Lecithin, FD&C Yellow #5&6.
Istruzioni:
Mix two scoops of Essential Amino Energy in 10-12 oz of cold water.

For Pre-Workout Energy Support:
Take 2-6 scoops 20-30 minutes before training.

For Post-Workout Amino Support:
At least 4 hours after initial pre-workout dose, take 2-4 scoops after training.

Dial-Up Your Energy & Aminos:
2 Scoops
Energy Level: Mild
Amino Level: 5 grams
Caffeine: 100 mg

4 Scoops
Energy Level: Moderate
Amino Level: 10 grams
Caffeine: 200 mg

6 Scoops
Energy Level: Intense
Amino Level: 15 grams
300 mg

Occasion
AM Wake Up: 2-4 Scoops
Pre-Workout Energy: 4-6+ Scoops
Post-Workout Recovery: 2-4 Scoops
Afternoon Pick-Me-Up: 2-4 Scoops
AVVERTENZA:
Allergen Information: Contains Soy (Lecithin). Consult your physician before using this product if you are taking any medication or are under the physician's care for a medical condition. Not for use by those under the age of 18, women that are pregnant, trying to get pregnant, or nursing, or those that are sensitive to caffeine and beta-alanine. Do not consume caffeine from other sources while taking this product as too much caffeine may cause nervousness, irritability, sleeplessness, and occasionally rapid heartbeat.

2 scoops of this product contain 100 mg of caffeine. Do not exceed more than 6 scoops within any 4 hour period. A person should start with not more than 2 scoops (100 mg caffeine) to assess tolerance and then gradually increase serving size. Do not exceed 10 scoops per day. Do not combine with alcohol.

Consume as part of a healthy diet, and drink at least 100 oz of water per day. Exercise may increase your need for additional fluid intake. Keep out of reach of children. *Phenylketonurics: Contains Phenylalanine.
Altre informazioni:
**Total Caffeine from all sources is equal to 100mg/9g serving. To maximize freshness and minimize product clumping, store tightly-closed container in a cool, dry place.
La passione per la qualità di PipingRock è comprovata dai test analitici avanzati effettuati in sede
PipingRock garantisce la massima qualità perché i nostri integratori sono sviluppati, prodotti e testati nei nostri laboratori all'avanguardia.

Non OGM
La salute è la prima priorità di PipingRock. Gli organismi geneticamente modificati (OGM) sono presenti in numerosi integratori alimentari, nonostante non siano ancora considerati sicuri per l'assunzione a lungo termine. PipingRock si impegna a offrire un'ampia gamma di prodotti non OGM, per garantire la massima qualità senza la presenza di modificazioni genetiche.
Soddisfazione garantita al 100%
Garantiamo la qualità dei nostri prodotti. Se per qualsiasi motivo non sei soddisfatto del nostri prodotti, ti rimborseremo integralmente ai sensi della nostra politica sui resi.
Energia aminoacidi essenziali (mix frutta), 1.29 lbs (585 g) Bottiglia
41365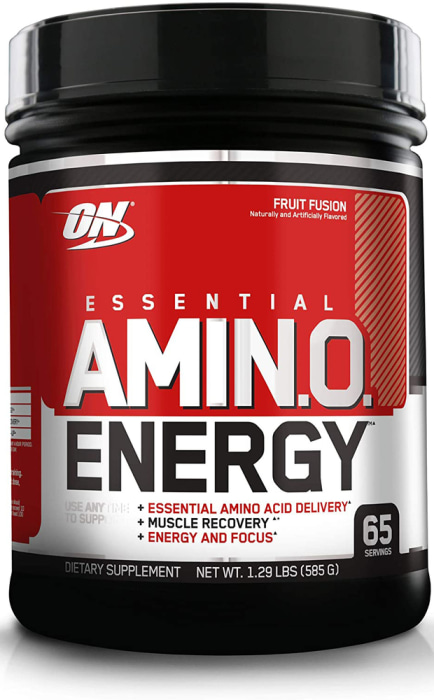 Energia aminoacidi essenziali (mix frutta), 1.29 lbs (585 g) Bottiglia
41365
Formato:
1 | 1.29 lbs (585 g) Bottiglia
- Disponibile
PipingRock.com
Valutazioni e recensioni
(1)
5
1 Recensioni dei clienti
1-1 di 1 Recensioni dei clienti
@anonymous
@anonymous@anonymous
Jun 29, 2021
Recensioni 1
visualizzati 1 - 1 di  1  risultati.